Ready to have millions of eyes on your products?
Whether you're an entrepreneur looking to start using influencers to promote your products, an existing brand wanting to develop an in-house influencer marketing team and need a training manual, or an experienced brand ready to bring things to the next level – you've come to the right place.
As pioneers of the influencer marketing world, these techniques have contributed to over $75,000,000 USD within the last seven years using influencers to promote products across several brands we developed in-house.
It began in 2011 by sending product in exchange for posts on Instagram, before this new-age form of marketing was even coined "Influencer Marketing". We've worked with eight figure online businesses, working with thousands of influencers simultaneously – from those with 1,000 followers to the largest influencers and celebrities in the world.
We know the teams are best structured when everyone is working in their areas of strength. Salespeople should be negotiating sponsorship deals and managing accounts, creative people are responsible for copywriting and content creation, while administrative coordinators support the staff so the highest performing in-house influencer marketing team is possible.
Billions are spent on influencers, while we've been paying industry lowest rates for top tier talent. Within our last two years alone, we had over 6 billion in social reach from nearly 6,000 individual posts.
The In-House Influencer Marketing Mastery course is not only incredibly comprehensive, but it is the sole influencer marketing course on the internet today. We share the templates we've used to contact millions of influencers, agents and managers, our proprietary rate calculators that allowed us to average a $0.40 CPM and all the supporting material to not only run in-house teams, but to manage influencers and celebrities themselves.
With our vast experience, we're able to develop, optimize and manage our own internal database without requiring third-party companies who offer influencer sourcing and campaign management. Everything is in-house.
Today, the industry is moving away from outsourcing influencer marketing campaigns with agencies, towards running in-house teams.
We were seven years ahead of the game.
Unfortunately for most brands just getting into influencer marketing today, they're inexperienced and misguided by a lot of the articles on the internet and self-proclaimed industry experts. Not only are they paying influencers three to four times what they need to, but they're unaware of what they can demand from influencers, what posting requirements need to be and how to actually manage those relationships.
This course is composed of 67 lectures within 9 sections, complimented with downloadable content and 8 quizzes to test your understanding of the material covered.
Just some of the incredible value included in this course...
Proven effective templates used in millions of touchpoints
Cutting edge negotiation tactics, with templates
Our rate calculator used to achieve an average $0.40 CPM
High quality post requirements, with content & schedule email templates
Guide on proven photo & video styling, content and caption creation techniques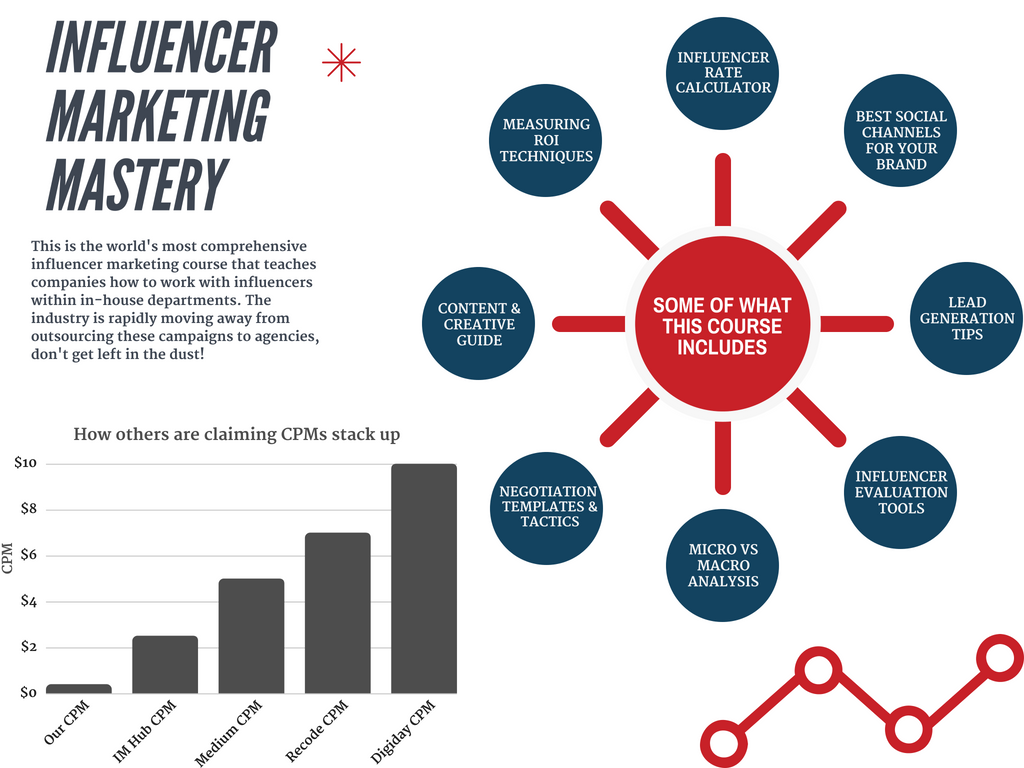 The course price is $99 USD, but the actual value is astronomical.
This course has often been used as a training manual for in-house influencer marketing teams. If you have a team larger than five and wish to have them take this course, please contact [email protected] to discuss our group rate.
We're also in the process of developing a credited university course. Please sign up to our newsletter for more updates on that.